Hire
QA

testers remotely within 3-5 days

You can hire QA testers remotely with Expert Remote. Sign up to access our talent pool. Search available developers, add them to vacancies and schedule interviews.

Sign up to browse available QA testers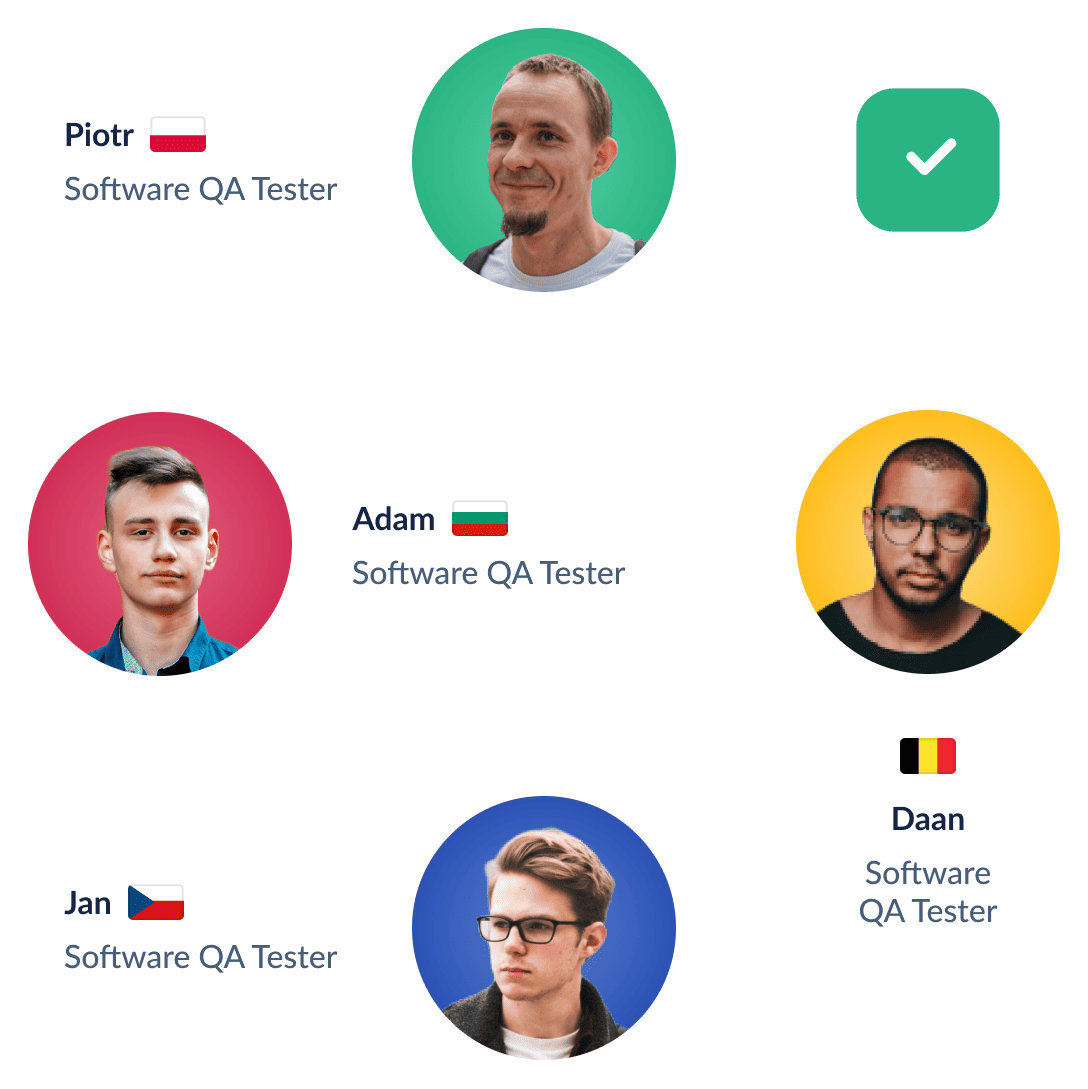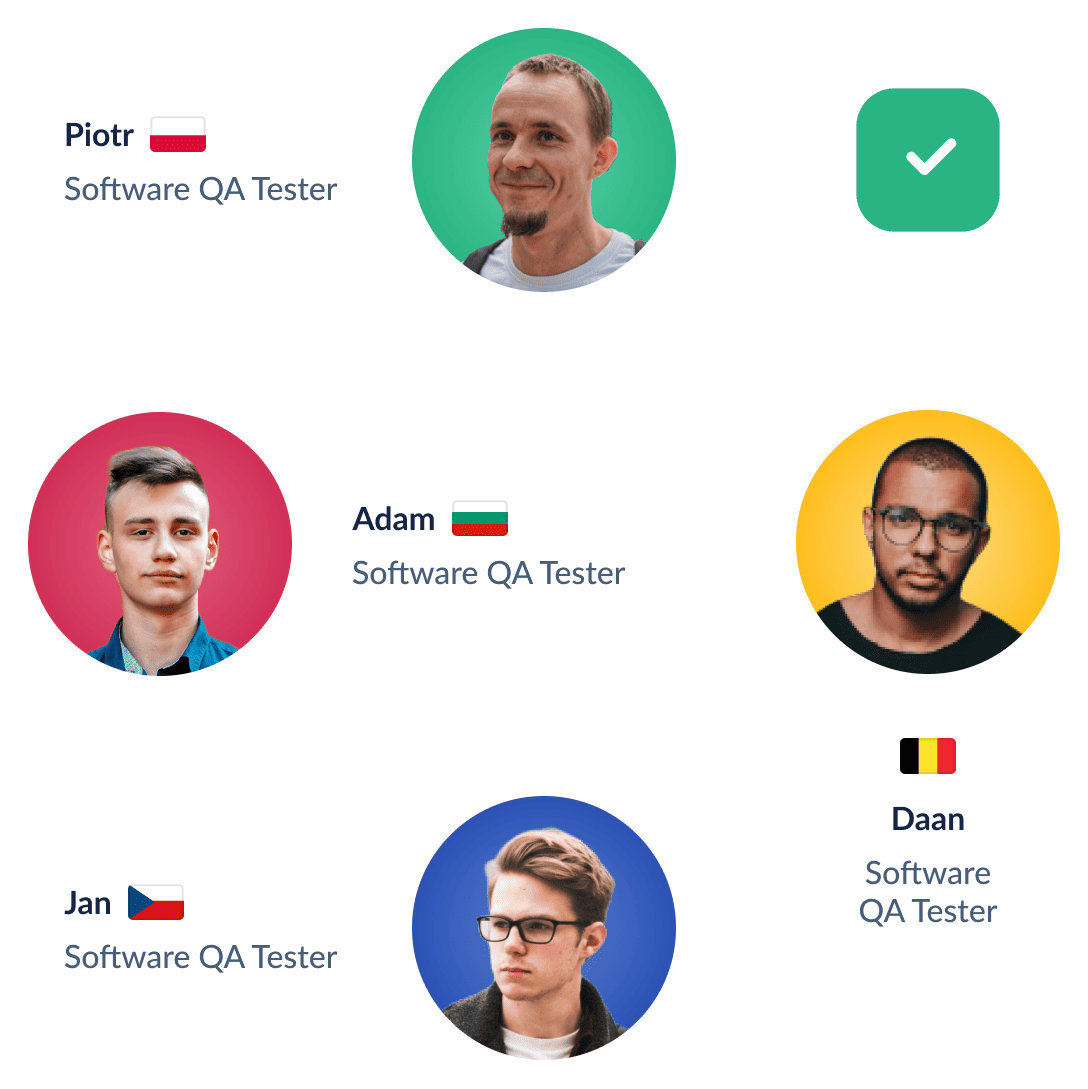 Hire Top 1% of QA testers Today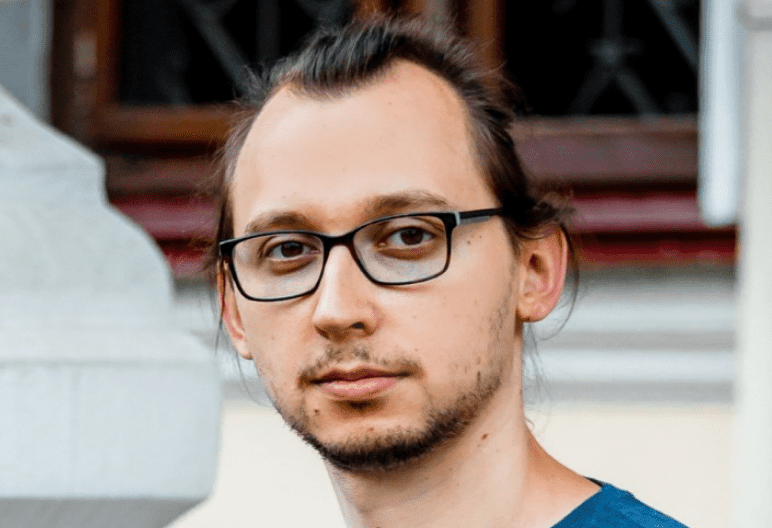 Hire Vladimir
Vladimir R.
QA tester |
10 years experience
QA tester
10 years experience
Malaga, Spain
IT professional with a solid background and 10+ years of commercial experience in test automation. Primary areas: Web services and Web UI test automation. Worked on 8 projects in game, travel, and marketing domains mostly on key and leading roles. Set up processes and managed teams of 20+ people. Programming languages: Java, Groovy, C#. Databases: Oracle, Microsoft SQL Server, PostgreSQL. Methodologies: SCRUM, KANBAN.
Show More
Show Less
.NET
C#
Docker
Graddle
Groovy
JAVA
JUnit
Maven
MS SQL Server
NUnit
Oracle
PostgreSQL
Selenium
SoapUI
Specflow
Spock
Spring
Quality Assurance
Show More
Show Less
Hire Vladimir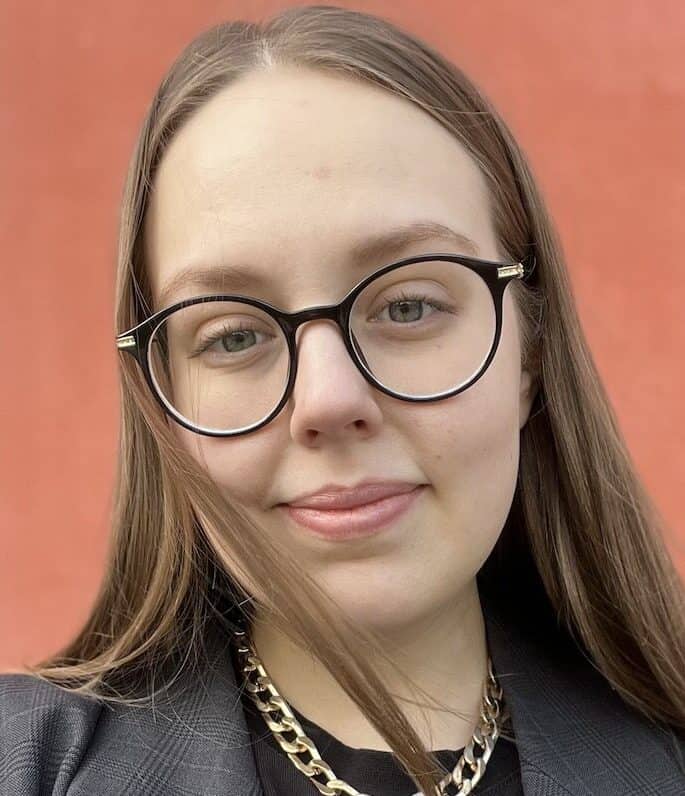 Hire Veronika
Veronika B.
QA tester |
3 years experience
QA tester
3 years experience
Wroclaw, Poland
QA Automation Engineer with 3 years of experience. Worked on projects in Healthcare, IoT, Real Estate, eCommerce and others domains. Participated in testing web, API and mobile (Android, IOS) applications. Experience in setting up testing frameworks from scratch and supporting existing frameworks.
Show More
Show Less
Appium
CodeceptJS
Cypress
Detox
JavaScript
Selenium
TypeScript
WebdriverIO
Quality Assurance
Show More
Show Less
Hire Veronika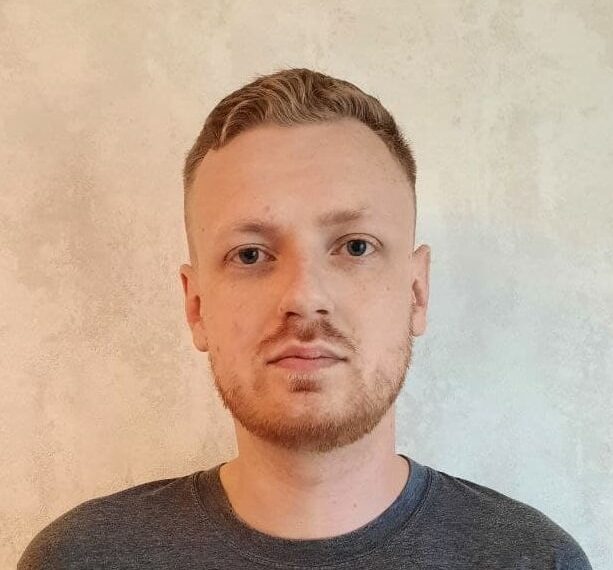 Hire Aleksey
Aleksey D.
QA tester |
2 years experience
QA tester
2 years experience
Lodz, Poland
Quality Assurance specialist with 2 years of commercial experience. Worked on 2 large projects in teams of 10+ people. Both projects were in HRTech domain. I set up testing frameworks, oversaw releases, performed regression testing, wrote test documentation etc.
Show More
Show Less
Agile
AJAX
APIs
manual testing
regression testing
reporting
REST
Scrum
SDLC
test cases
Quality Assurance
Show More
Show Less
Hire Aleksey
Don't have the time to search developers yourself?
1
Book a Call With Our Hiring Expert
Schedule a 15 minute chat to help us understand your talent requirements
2
Get Hand-Picked Candidates to Interview
You'll get 3-5 candidate profiles from our vetted talent pool within 2 days
3
Hire and Get Started Immediately
Hit the ground running with your new dream team in just a week
How we do it
Global Sourcing
Thousands of developers across the world sign up to our platform each month
Talent Vetting
They go through our rigorous screening process and only 1% make the cut
Talent Pool
We add the best candidates to our talent pool where they wait for projects
Hiring
You can hire from this pool of world's best developers on a contract basis, within days
Customer reviews
Expert Remote developers are superb — depending on which talents they assign to you, you can expect anything from solid to phenomenal work along the whole spectrum of software design, engineering, implementation and maintenance skills.
Expert Remote played a huge role in building our dev squad: a part-time UI/UX designer, two front-end developers, a back-end developer, and a part-time QA. We shopped around a bit with different agencies, but settled on Expert Remote due to the high-caliber of talent and affordable rates.
Expert Remote developers helped in developing apps, but also in talking through scope and need and giving ideas – which is very useful for a non-coder like myself.
Frequently Asked Questions
Are you an Agency?
Nope.
Well, some clients call us a virtual agency or an agency 2.0 :)
1. Typical agencies take 50-70% from a developer salary. We take only 15-30%.
2. Agencies have 10-20 developers on their bench (available). We've got 300+ devs.
3. Agencies don't allow developer buy-out. You can hire our developer in-house after 1 year for "1-month salary" fee.
Will I have a contract with a developer or with Expert Remote?
With Expert Remote.
It's risky to have 5 contracts with 5 remote developers from 5 different countries.
You'll have a single B2B contract with our company. So, if smth goes wrong with IP or anything, you can always sue us :)
P.S. Our company is registered in the USA and Poland.
How does the pricing work?
Each developer has their own hourly rate with our commission already included.
We take between 15% and 30% from what you pay, which is 2-3x lower than typical agency fees.
No setup fees. You only pay after you hire a developer.
2-week paid trial. If you don't like our developer after 2 weeks, we'll apply a 25% discount on the hours worked.
1-week notice. You can ask for a replacement or cancel the contract within a week.
Which countries are your developers located in?
We source developers across 30+ countries.
Most popular countries: Armenia, Georgia, Poland, Serbia, Albania, Azerbaijan, Turkey, North Macedonia, Romania.
We also got developers in the USA, Canada, UK, Germany, France, Spain, Estonia, Bulgaria, Netherlands, Pakistan, India, Kenya, Nigeria, etc.
What are your average rates?
Rates start from $20/h. The median average is $35-40/h.
There's always top 10% percentile candidates who are overpriced, and bottom 10% percentile underpriced ;) But most fall into the market rate category.
The beauty of global sourcing is tapping into unknown regions. Have you heard of North Macedonia? You can find senior developers for $25/h (our fee included)!
How do you ensure developer quality?
We source developers with marketing, which is 20-30x more effective than Linkedin. This creates us a huge flood of candidates.
Then we take this top of the funnel and feed it into our proprietary vetting process. Only top 1% of candidates make it through.
Part of the process is automated, which allows us to do it at scale. For instance, our recruiters have their calendars fully booked and able to conduct 200-250 soft-skill interviews a month.
What tech stacks do you have?
We have developers across all major stacks.
Back-end: Node.js, PHP, Python, JAVA, .NET, Ruby, GoLang etc.
Front-end: React, Angular, Vue.js, etc.
Mobile: Swift, Kotlin, React native, Flutter, etc.
AI/ML/Data Science is a big stream for us: machine learning, deep learning, NLP, computer vision, etc. Technologies: TensorFlow, PyTorch, Terraform, Pandas, AzureML, OpenCV, etc.
Can I hire the whole team?
Yes!
Apart from developers we've got UI/UX designers, QAs, Product Managers, etc.
Based on your requirements we can assemble the whole engineering team.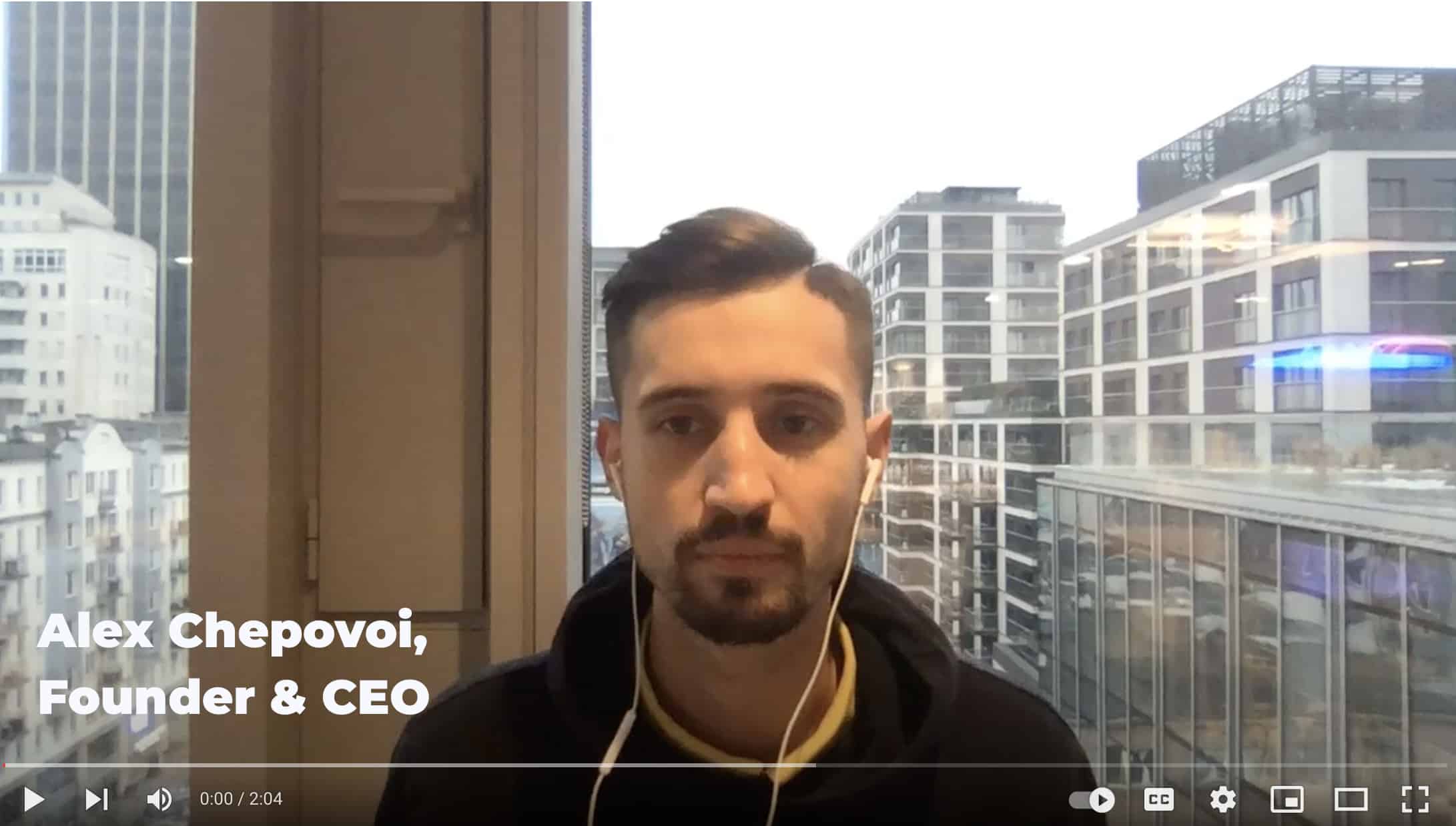 April 02, 2023
9 min read
Software QA Tester for Hire
As software development becomes more complex and intricate, the importance of software quality assurance (QA) testing has increased significantly. Testing is a critical phase of the software development life cycle (SDLC). It involves reviewing applications and software code, identifying bugs, and ensuring that they are fixed before final delivery to clients.
A software QA tester is a person who checks out the product and verifies whether it meets the quality standards that have been set. A software QA tester is responsible for reviewing the quality of a company's product through verifying its functionality. If you need to hire a QA tester for your team — read on!
What a Software QA Tester Does
It's important to understand what exactly a software QA tester does. The main functions of a software QA tester are:
Reviewing and analyzing system specifications. One of the chief software QA tester's responsibilities is to determine the requirements of the system and understand what it is meant to do. This will help in test plan creation, test strategy formulation, as well as the testing process itself.
Checking software for potential bugs. Software QA testers perform various kinds of manual testing and oversee automatic testing to make sure that there are no defects in the system.
Logging program bugs and glitches. The job description of a software QA tester also includes using logs to track errors and other issues that occur during testing.
Documenting and evaluating test results. A software QA tester documents their findings and evaluates the results of testing to make sure that the application is ready for deployment. The documentation should contain information about how each feature works, any problems that were encountered during testing, and suggested solutions to those problems.
Working with engineers to improve the testing process and the application. A software QA tester is often the first person to use an application once it's built, so they can provide valuable feedback about how users will interact with the system.
A good software QA tester is a team player who makes sure their work benefits the team, the project, and the software.
Hiring QA Testers: What Skills to Look For?
QA testing freelance experts are not easy to find. One of the most challenging parts of hiring a software QA tester is finding someone who possesses the right combination of skills. You want to hire a tester who is both diligent and attentive to detail, but also someone good at communication and can positively offer constructive criticism.
There are several essential skills that you should look for in a software QA tester.
Technical Expertise
When hiring a software QA tester, it's important to make sure they have the technical expertise to do their job well. Here are some of the tech skills a software QA tester should have:
Agile testing. A qualified QA tester should be familiar with the principles of Agile testing, where the testing process is continuous, begins with the start of the project, and moves along together with the development. Agile testers can work quickly, adapt to change, and communicate effectively.
Automation testing. In today's software market, where complexities in the applications themselves and their interactions with other systems are advancing rapidly, manual testing alone is insufficient for ensuring quality. Automated testing allows for a higher level of accuracy, which is especially vital when testing browser compatibility, as well as headless, performance, database, and integration layers. Though, it's considered a separate skill.
Software Development Life Cycle (SDLC). Software QA testers need to learn how software is developed. It will help them better understand how their role fits into the SDLC and how their work will impact the final product. A software QA tester must also be familiar with development methologies like Kanban, Scrum, Waterfall, and Lean.
Database or SQL. Data can be stored in different types of databases like Oracle and MySQL. A software QA tester needs to understand the query language associated with each database so they can manipulate the data. It's easier for an experienced software QA tester to validate data in a database if they are familiar with SQL or databases.
A qualified software QA tester also should have basic programming and general operating systems knowledge to run tests that require a specific environment or setup.
Attention to Detail and Investigating Skills
A software QA tester needs to be detail-oriented and have good investigative skills. They must be able to meticulously go over application pages without missing a single bug.
A QA tester should also be able to look at a problem from different angles and determine the source of the problem.
Critical Thinking and Analytical Skills
Critical thinking involves making logical inferences based on evidence and experience. A software QA tester should be able to create all possible scenarios and verify that the software is ready for all of them.
Analytical skills help a software QA tester break down complex systems into smaller, more manageable pieces. This allows a software QA tester to identify specific problems and solve them one at a time.
Communication Skills
Testers need strong communication skills in order to work effectively with other people. They need to be able to explain their findings clearly and accurately and know how to receive feedback. Communication skills help a software QA tester build good working relationships with developers, project managers, and customers.
Documenting and Reporting
A software QA tester must document their findings and report them to project managers or other team members. It means that they need strong communication skills in order to accurately convey the problems they've found, as well as how they were solved.
Quality documenting and reporting allow project managers to quickly see what has been tested and whether it passed or failed. It helps them determine the status of any given feature or bug fix and possible further actions necessary.
Software Quality Tester Interview: Asking the Right Questions
Before you make a hiring decision, it's important to assess your candidate from different perspectives. You also need to know the specifics of your project and your software testing needs, and then evaluate how the candidate matches those needs.
Outline Your Needs
Be as specific as possible. For example, if your company uses Selenium WebDriver test automation software, then specify that need in your job posting so that applicants can tailor their applications accordingly.
| | |
| --- | --- |
| Questions you have to ask yourself | How it will help |
| What type of application, software, or program do you want to test? | You want someone who knows what they're doing and has experience working with the required tools. You don't want them to waste your time with unproductive software QA testing. |
| What do you want to learn with your test? | If this is your first version of the program, you'll want to focus on finding bugs — but if it's an update, then you'll want to check workflow improvements. |
| What do you want the tester to look for in your project? | If you're looking for someone who will be able to find bugs related to security, let them know that upfront. |
| What types of qualifications do you want in the tester? | If you need a software QA tester with specific experience, you could specify that in your job posting and ask questions about their experience. |
This way, you will have a clear picture of the perfect candidate for the position.
Prepare Interview Questions
To determine whether candidates are a good fit for the role, you should assess both their technical and non-technical skills.
Evaluating QA Testing Skills
Here are some questions you can ask to evaluate a candidate's QA testing skills:
What are the most common types of bugs that you find in testing?
What testing types have you conducted?
What is the difference between smoke and sanity testing?
What tools do you use when performing manual testing?
The questions will vary depending on the role of a software QA tester in your project and what type of software you are testing.
Evaluating Soft Skills
Here are some questions you can ask to evaluate a candidate's soft skills:
How do you respond to negative feedback regarding your work?
Have you ever found it difficult to communicate with team members as a software QA tester?
When has a project gone wrong, and how did you fix it?
What is your biggest pet peeve?
A software QA tester is a team player, and you need someone who can collaborate with other members of the team.
How Much Does It Cost to Hire a QA Tester?
The cost of hiring a software QA tester depends on the project, the skills required, and the location. The average hourly rate of a software QA tester ranges from $20 to $100 per hour.
| | | |
| --- | --- | --- |
| Position | Average hourly rate | Average yearly salary |
| Junior software QA tester | $25 | $55,000 |
| Middle software QA tester | $35 | $75,000 |
| Senior software QA tester | $50 | $100,000 |
A software QA tester is an important part of the software development process. They test for bugs in the code, ensure that the software works properly, and verify that it satisfies requirements.
If you're looking for a software QA tester, Expert Remote has got you covered. Contact us to learn more.