Hire
Back-end

developers remotely within 3-5 days

You can hire Back-end developers remotely with Expert Remote. Sign up to access our talent pool. Search available developers, add them to vacancies and schedule interviews.

Sign up to browse available Back-end developers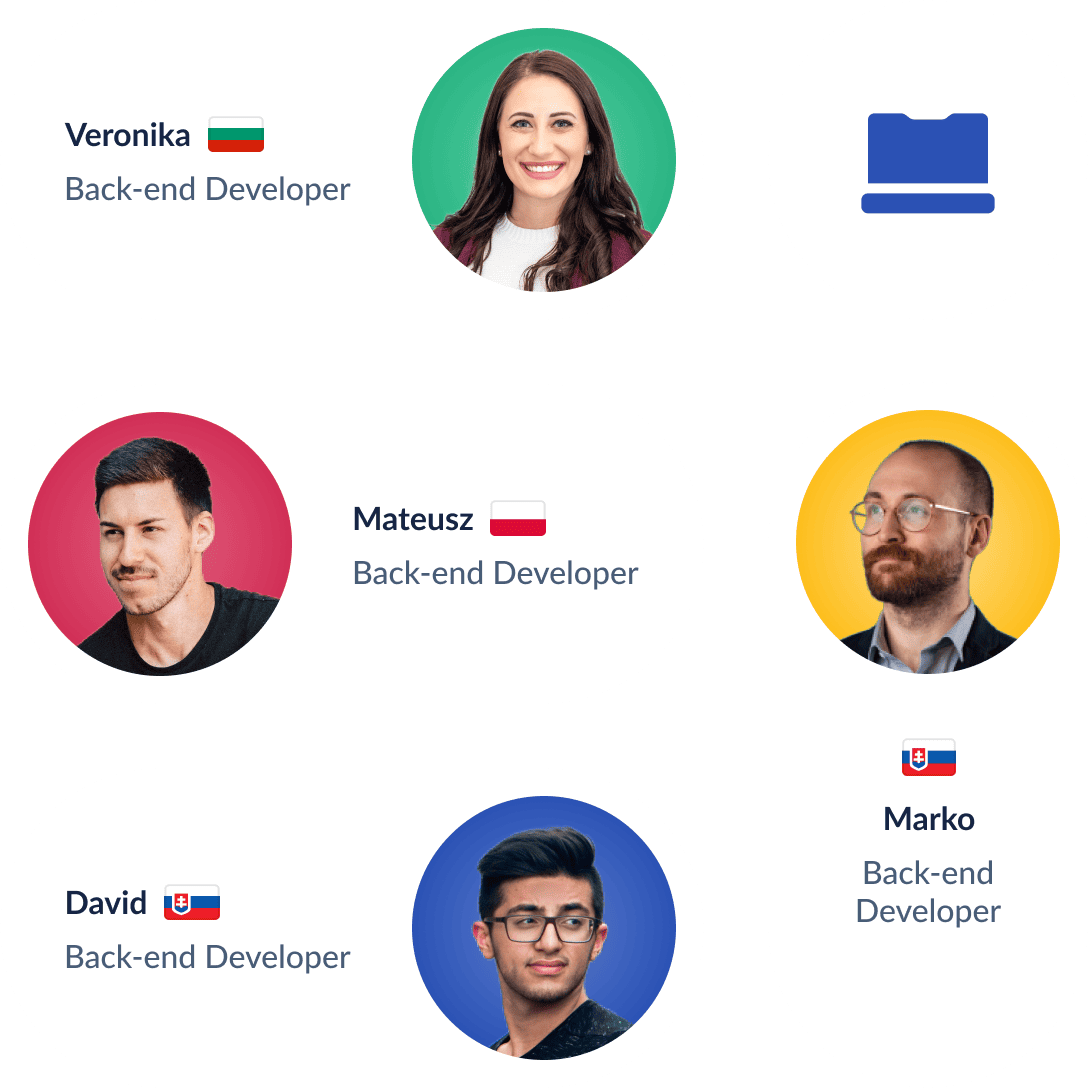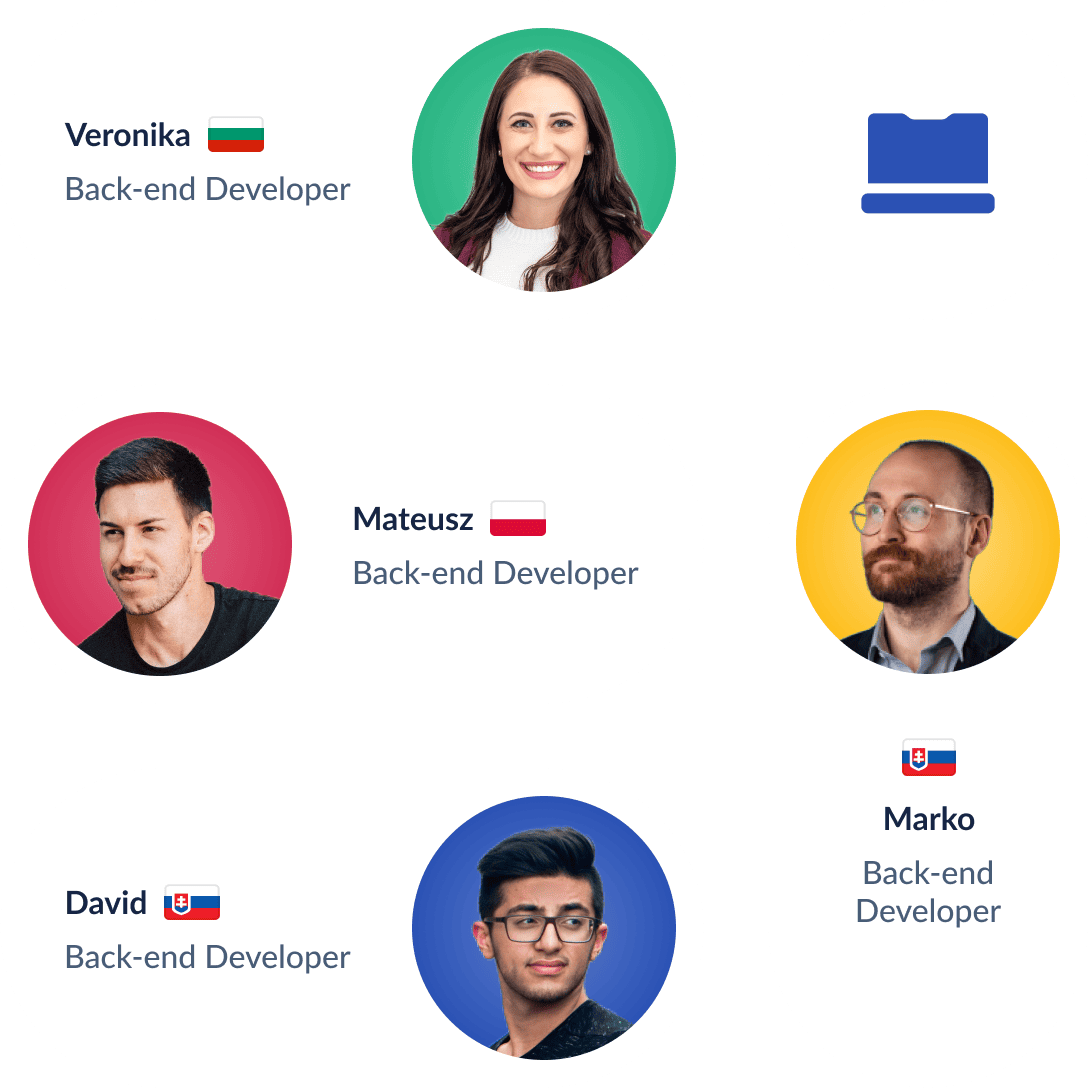 Hire Top 1% of Back-end Developers Today
Don't have the time to search developers yourself?
1
Book a Call With Our Hiring Expert
Schedule a 15 minute chat to help us understand your talent requirements
2
Get Hand-Picked Candidates to Interview
You'll get 3-5 candidate profiles from our vetted talent pool within 2 days
3
Hire and Get Started Immediately
Hit the ground running with your new dream team in just a week
How we do it
Global Sourcing
Thousands of developers across the world sign up to our platform each month
Talent Vetting
They go through our rigorous screening process and only 1% make the cut
Talent Pool
We add the best candidates to our talent pool where they wait for projects
Hiring
You can hire from this pool of world's best developers on a contract basis, within days
Customer reviews
Expert Remote developers are superb — depending on which talents they assign to you, you can expect anything from solid to phenomenal work along the whole spectrum of software design, engineering, implementation and maintenance skills.
Expert Remote played a huge role in building our dev squad: a part-time UI/UX designer, two front-end developers, a back-end developer, and a part-time QA. We shopped around a bit with different agencies, but settled on Expert Remote due to the high-caliber of talent and affordable rates.
Expert Remote developers helped in developing apps, but also in talking through scope and need and giving ideas – which is very useful for a non-coder like myself.
Frequently Asked Questions
Are you an Agency?
Nope.
Well, some clients call us a virtual agency or an agency 2.0 :)
1. Typical agencies take 50-70% from a developer salary. We take only 15-30%.
2. Agencies have 10-20 developers on their bench (available). We've got 300+ devs.
3. Agencies don't allow developer buy-out. You can hire our developer in-house after 1 year for "1-month salary" fee.
Will I have a contract with a developer or with Expert Remote?
With Expert Remote.
It's risky to have 5 contracts with 5 remote developers from 5 different countries.
You'll have a single B2B contract with our company. So, if smth goes wrong with IP or anything, you can always sue us :)
P.S. Our company is registered in the USA and Poland.
How does the pricing work?
Each developer has their own hourly rate with our commission already included.
We take between 15% and 30% from what you pay, which is 2-3x lower than typical agency fees.
No setup fees. You only pay after you hire a developer.
2-week paid trial. If you don't like our developer after 2 weeks, we'll apply a 25% discount on the hours worked.
1-week notice. You can ask for a replacement or cancel the contract within a week.
Which countries are your developers located in?
We source developers across 30+ countries.
Most popular countries: Armenia, Georgia, Poland, Serbia, Albania, Azerbaijan, Turkey, North Macedonia, Romania.
We also got developers in the USA, Canada, UK, Germany, France, Spain, Estonia, Bulgaria, Netherlands, Pakistan, India, Kenya, Nigeria, etc.
What are your average rates?
Rates start from $20/h. The median average is $35-40/h.
There's always top 10% percentile candidates who are overpriced, and bottom 10% percentile underpriced ;) But most fall into the market rate category.
The beauty of global sourcing is tapping into unknown regions. Have you heard of North Macedonia? You can find senior developers for $25/h (our fee included)!
How do you ensure developer quality?
We source developers with marketing, which is 20-30x more effective than Linkedin. This creates us a huge flood of candidates.
Then we take this top of the funnel and feed it into our proprietary vetting process. Only top 1% of candidates make it through.
Part of the process is automated, which allows us to do it at scale. For instance, our recruiters have their calendars fully booked and able to conduct 200-250 soft-skill interviews a month.
What tech stacks do you have?
We have developers across all major stacks.
Back-end: Node.js, PHP, Python, JAVA, .NET, Ruby, GoLang etc.
Front-end: React, Angular, Vue.js, etc.
Mobile: Swift, Kotlin, React native, Flutter, etc.
AI/ML/Data Science is a big stream for us: machine learning, deep learning, NLP, computer vision, etc. Technologies: TensorFlow, PyTorch, Terraform, Pandas, AzureML, OpenCV, etc.
Can I hire the whole team?
Yes!
Apart from developers we've got UI/UX designers, QAs, Product Managers, etc.
Based on your requirements we can assemble the whole engineering team.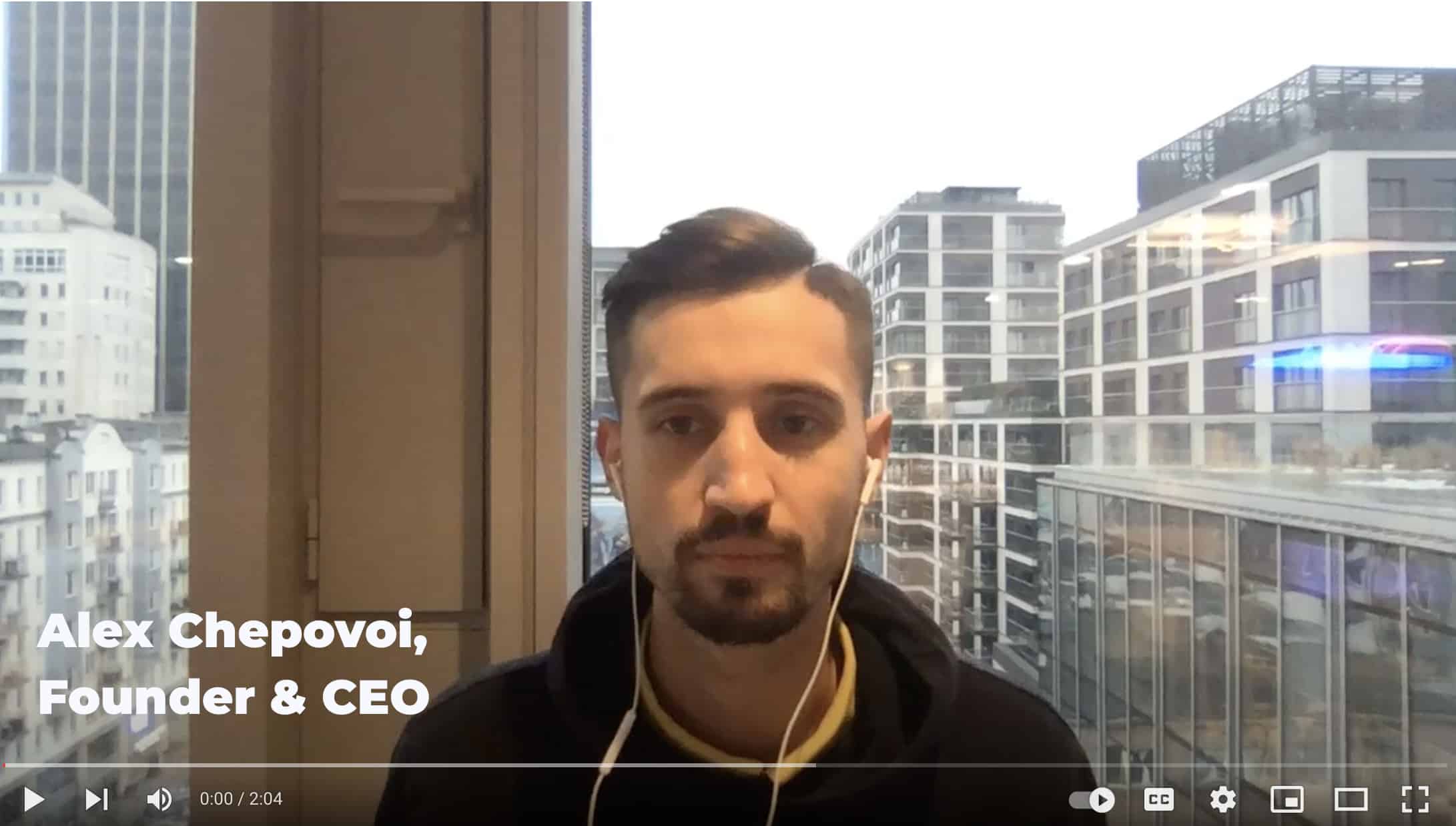 April 02, 2023
12 min read
Hire Back-End Developers & Freelancers
When you're looking for a freelance back end developer for hire, you want to ensure that you're getting the best people for the job. But how do you know if the tech talent you're hiring is good?
Professional backend developers are not easy to find. There are almost 200,000 job openings for developer positions in the US, and the competition for good backend developers is only increasing. Here's what you need to know about the back-end developer's position and how to hire back-end developers who will be a perfect addition to your team. 
Reasons Why Your Business Needs Backend Developers
Back-end developers are in high demand, given their expertise in programming languages and technologies like C#/.NET, JS/Node.js, PHP/Laravel/Symfony, JAVA, GoLang, Python/Django/Flask, etc. To ensure that your business gets the best possible back-end developer on board, it's crucial to know the value of their services. So: let's figure out what they do in web development. 
If we were to break down the architecture of a web application, there would be two-part to it: the client part, with a web browser that sends a user's requests to the server, and the server part, with a web server itself, but also business logic that underlies the UI that's displayed within the web browser, and storage that contains the data a user is sending a request for. The first part covers the website's UI, the interactable part of the resource; it's constructed by front-end developers. Back-end developers for hire construct the second part, which means the following.
Back-end Developers Create and Maintain the Business Logic of the App
The business logic of the web app is the way software processes users' requests. In other words, these are sequences that are activated when a user makes this or that request. If your website is, for instance, an e-commerce platform, business logic would contain different events that may or may not be triggered when a user tries to order something. Business logic would cover looking for an item, looking for a similar item, looking for the item with similar properties but lower costs, checking out the item, paying for it, and so on.
Back End Developers Create and Manage the Storage and Work with Databases
In a development team, back-end programmers also maintain the persistence layer of the web app architecture that accepts data calls from the users and establishes access to the app's storage. Storage comprises of a server and a database, database management software, apps, and UIs that receive data and parse it. For the servers, back-end developers are often required to work with services that provide cloud storage, like Amazon or Google.
Back End Experts Write Code to Maintain Security and Oversee 3rd-Party Components
Back-end developers often establish secure means of communication and interaction with an app. They're also usually in charge of integrating payment gateways and other third-party APIs a software would need to expand the software's functionality. For instance, if you want to create software for hospitals, a back-end developer would need to create means of accessing this hospital's EHR via EHR's API.
What Skills Do Backend Developers Have?
Back-end developers use back-end programming languages like PHP, Python, and Java to develop a website's server-side functions. The purpose of a server-side scripts is to execute queries and process data while serving web users. They also write code that powers websites and online programs.
But what exactly do these specialists do? Below is an overview of some of the key skills they possess.
Programming Languages and Frameworks
Backend developers should know at least one programming language like Java or Python before starting their career. It's also great if they know frameworks that are based on their language of choice (Django for Python, Spring for Java, Ruby on Rails for Ruby, and so on) and utilize a toolkit that's useful for their domain of choice. For instance, if it's a developer with proficiency in integrating elements of machine learning into the web app, it would be great if they knew NumPy, scikit-learn, TensorFlow, or other tools that are created for ML tasks.
Database Management Systems
A freelance back end developer should know how to use the most popular database management systems like MySQL, Oracle, and PostgreSQL. You may also want to hire backend developer who knows NoSQL databases like HBase or MongoDB.
Version Control
Backend developers should be familiar with version control systems such as Git and Mercurial. Version control is an essential tool for tracking changes in software code, which helps the developer collaborate more effectively with other freelance developers on the team.
Web Hosting Platforms
Hire back-end developers who know how to use web hosting platforms like Amazon Web Services (AWS), Microsoft Azure, Heroku, and Google Cloud Platform (GCP). These are the frameworks that host your application and allow it to communicate with other systems over the Internet.
Backend Coder Responsibilities
The work of a back-end developer can vary depending on the project at hand, but in general, they are responsible for building web pages and APIs.
| | |
| --- | --- |
| Back-end developer responsibilities | Description |
| Develop back-end APIs. | Back-end developers will be responsible for designing effective solutions that meet the website's performance demands and business objectives. They'll do this by working with other teams such as product management, design, quality assurance, and system administration. |
| Create website architecture. | A freelance backend developer ensures a website is scalable so it can handle large amounts of traffic without slowing down or crashing under load conditions — making use of today's most up-to-date technologies while taking into consideration the future scalability needs of your company. |
| Write, test, and maintain backend codebase. | A backend coder must be able to troubleshoot issues in existing code or inefficiencies in their solutions. Designing and testing new features and maintaining existing ones. |
| Organize the system logic. | Freelance back end developers organize the logic of a website or application by writing code that can be easily understood and applied to future projects. They must also make sure that their code is secure and free of bugs. |
| Debug and troubleshoot apps. | A freelance backend developer must have the necessary experience and knowledge to pinpoint and fix the problem that is causing a website or application to malfunction. |
Back-end developers also build databases that provide storage capabilities for all this information.
What Tools Do Back-End Developers Use?
Back-end developers use a wide range of tools to develop, test, and maintain web applications. Here are some of the most common means of back-end developers' work.
Programming Languages
Several programming languages are used for backend development. Some of the most common include:
Python. A general-purpose programming language that's used for web development, scientific computing, data analysis, and machine learning.
PHP. A server-side scripting language that's primarily used for back-end development. It's also one of the most popular programming languages on GitHub and has many frameworks available to help a PHP developer build web apps more quickly.
JavaScript. A dynamic, object-oriented programming language that's used by frontend developers, but can also be used for back-end development (Node.js).
Ruby. A general-purpose programming language that's known for being easy to read and write.
Java. A modern and object-oriented language with strong security uses, based on Sun Microsystems technologies.
C#. A simple, modern, and powerful object-oriented programming language designed for building a variety of applications like video games or server applications.
Those are some of the main languages that a back end developer uses, but this is far from a complete list.
Frameworks
Frameworks are applications that allow you to build web apps more quickly than if you were to start from scratch. Here are some of the popular frameworks among backend developers:
Laravel & Symfony. PHP frameworks that make it easy to build web applications. Symfony is best suited for large web apps that are heavily customized and Laravel is great for small projects, prototypes, and MVPs.
Django. A Python framework that provides an excellent set of tools for building web applications quickly and efficiently while avoiding many common mistakes that can lead to security vulnerabilities in your code base.
Spring. A Java framework used for building enterprise-grade applications. The framework is primarily designed to support multiple programming languages like Java and Groovy, and the development of Model–view–controller (MVC) based applications.
Ruby on Rails. A full-stack web framework that provides an MVC structure, support for Ruby and SQL databases, and many other features.
Meteor. A framework for building real-time web applications. It uses Node.js and MongoDB to provide a full-stack JavaScript solution, which enables the developer to write code in both client and server-side languages.
Node.js. A server-side JavaScript environment that uses an event-driven architecture.
Hire back end developer who has a specialization in a programming language (e.g., Python) and at least one framework (e.g., Django/Flask).
Databases
There are many different kinds of databases that a backend engineer can use. Some of them are:
MongoDB. A document-oriented database that stores data in JSON-like documents with dynamic schemas. It uses a flexible data model, which makes it easy to store and query JSON data.
MySQL. A relational database management system (RDBMS). It uses server/client architecture and is scalable, reliable, and transactional.
Oracle. A object-relational database management system (ORDBMS). An ORDBMS is similar to a relational database except that it also stores objects, which can be used as complex data types.
Databases like Oracle are often used in enterprise environments, where they can be used for large-scale applications.
Servers
Servers are used to store and run your web application (APIs). Some of the popular web servers:
Apache. A free and open-source web server. It's available for many operating systems, including Windows, Linux, and macOS.
NGINX. A free and open-source web server that's available for many operating systems. It can be used as a reverse proxy server or load balancer to distribute traffic across multiple servers.
Lighttpd. A free, open-source web server that supports HTTP and FTP protocols. It has built-in caching and is also available on various operating systems.
Microsoft IIS. A Microsoft web server that can be used as a web application firewall. It allows administrators to configure their servers with a set of rules that are evaluated when an incoming HTTP request is received.
These are the tools that back-end developers use to make the magic happen.
Tips to Hire Back-End Developers
To hire back end developers who are good at their job, ask them about their past projects or clients. You can ask about backend programming languages and frameworks they've worked with before. Here are some tips you can use to hire backend developers with excellent skills. 
Company Needs
Decide whether you want to hire backend developers with extensive knowledge of a certain software, database, or programming language.
Programming Portfolio
If you are looking to hire backend developer with excellent skills, it's important to find out if they have a portfolio. You can ask them to share their GitHub or StackOverflow profiles.
Coding Assessment
A coding assessment is one of the best ways to hire back end developers with good skills. You should ask them to take a programming assessment test like HackerRank or CodeWars. This will give you an idea about their coding capabilities and problem-solving skills.
Coding Interview
Another way to hire back end developer with good technical skills is by conducting a coding interview. You can ask them to write some code on the spot or solve a problem that you've given them in advance. Besides, you can ask a backend coder questions during an interview:
What is your favorite database?
How would you design a social network from scratch?
The need to hire backend developer is growing rapidly. The market for skilled professionals has become so competitive that it can take days or even weeks to find the right person for your project. 
The hiring process on our platform will save you time and energy while giving you access to skilled back-end web development freelancers worldwide.