Hire
Vue.js

developers remotely within 3-5 days

You can hire Vue.js developers remotely with Expert Remote. Sign up to access our talent pool. Search available developers, add them to vacancies and schedule interviews.

Sign up to browse available Vue.js developers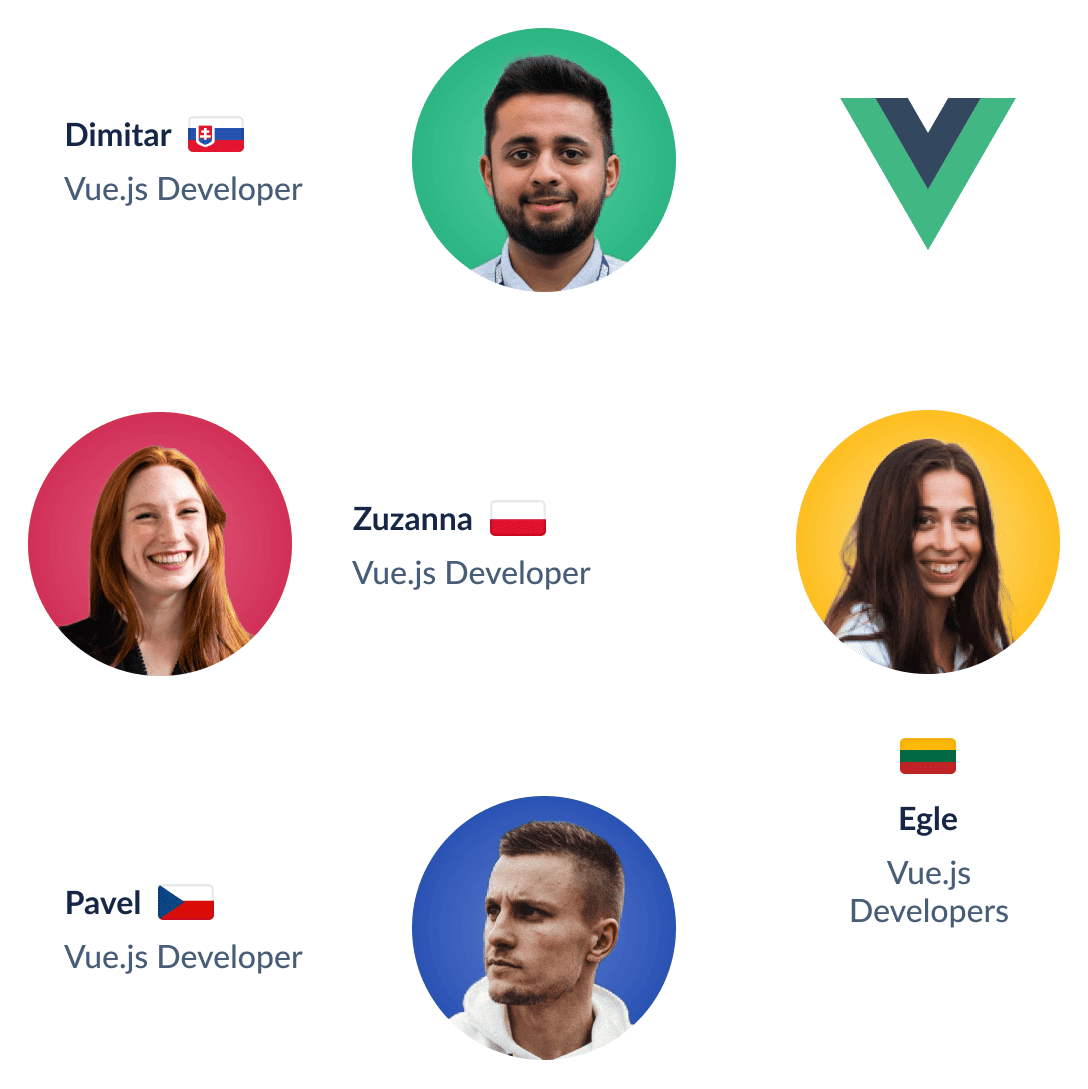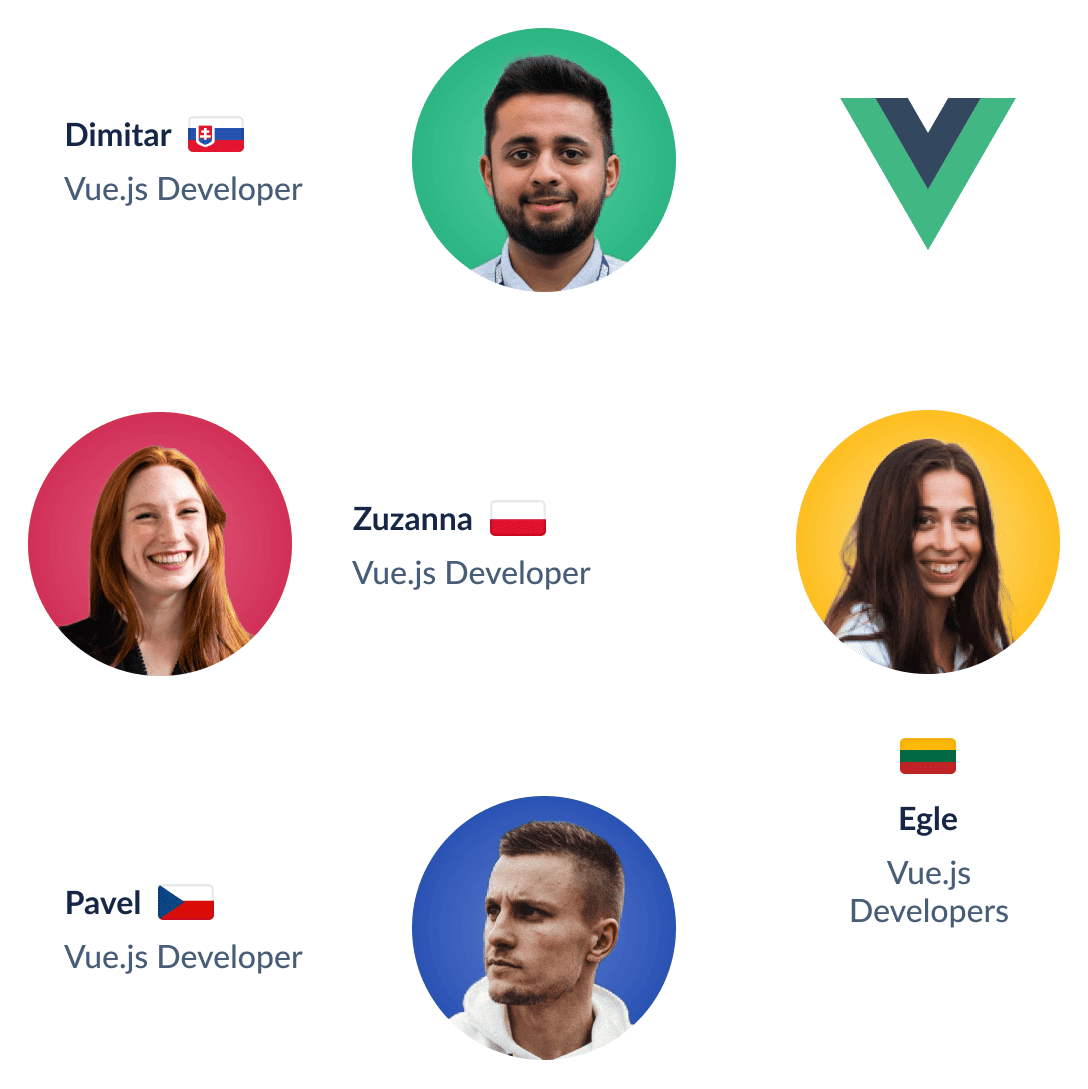 Hire Top 1% of Vue.js Developers Today
Don't have the time to search developers yourself?
1
Book a Call With Our Hiring Expert
Schedule a 15 minute chat to help us understand your talent requirements
2
Get Hand-Picked Candidates to Interview
You'll get 3-5 candidate profiles from our vetted talent pool within 2 days
3
Hire and Get Started Immediately
Hit the ground running with your new dream team in just a week
How we do it
Global Sourcing
Thousands of developers across the world sign up to our platform each month
Talent Vetting
They go through our rigorous screening process and only 1% make the cut
Talent Pool
We add the best candidates to our talent pool where they wait for projects
Hiring
You can hire from this pool of world's best developers on a contract basis, within days
Customer reviews
Expert Remote developers are superb — depending on which talents they assign to you, you can expect anything from solid to phenomenal work along the whole spectrum of software design, engineering, implementation and maintenance skills.
Expert Remote played a huge role in building our dev squad: a part-time UI/UX designer, two front-end developers, a back-end developer, and a part-time QA. We shopped around a bit with different agencies, but settled on Expert Remote due to the high-caliber of talent and affordable rates.
Expert Remote developers helped in developing apps, but also in talking through scope and need and giving ideas – which is very useful for a non-coder like myself.
Frequently Asked Questions
Are you an Agency?
Nope.
Well, some clients call us a virtual agency or an agency 2.0 :)
1. Typical agencies take 50-70% from a developer salary. We take only 15-30%.
2. Agencies have 10-20 developers on their bench (available). We've got 300+ devs.
3. Agencies don't allow developer buy-out. You can hire our developer in-house after 1 year for "1-month salary" fee.
Will I have a contract with a developer or with Expert Remote?
With Expert Remote.
It's risky to have 5 contracts with 5 remote developers from 5 different countries.
You'll have a single B2B contract with our company. So, if smth goes wrong with IP or anything, you can always sue us :)
P.S. Our company is registered in the USA and Poland.
How does the pricing work?
Each developer has their own hourly rate with our commission already included.
We take between 15% and 30% from what you pay, which is 2-3x lower than typical agency fees.
No setup fees. You only pay after you hire a developer.
2-week paid trial. If you don't like our developer after 2 weeks, we'll apply a 25% discount on the hours worked.
1-week notice. You can ask for a replacement or cancel the contract within a week.
Which countries are your developers located in?
We source developers across 30+ countries.
Most popular countries: Armenia, Georgia, Poland, Serbia, Albania, Azerbaijan, Turkey, North Macedonia, Romania.
We also got developers in the USA, Canada, UK, Germany, France, Spain, Estonia, Bulgaria, Netherlands, Pakistan, India, Kenya, Nigeria, etc.
What are your average rates?
Rates start from $20/h. The median average is $35-40/h.
There's always top 10% percentile candidates who are overpriced, and bottom 10% percentile underpriced ;) But most fall into the market rate category.
The beauty of global sourcing is tapping into unknown regions. Have you heard of North Macedonia? You can find senior developers for $25/h (our fee included)!
How do you ensure developer quality?
We source developers with marketing, which is 20-30x more effective than Linkedin. This creates us a huge flood of candidates.
Then we take this top of the funnel and feed it into our proprietary vetting process. Only top 1% of candidates make it through.
Part of the process is automated, which allows us to do it at scale. For instance, our recruiters have their calendars fully booked and able to conduct 200-250 soft-skill interviews a month.
What tech stacks do you have?
We have developers across all major stacks.
Back-end: Node.js, PHP, Python, JAVA, .NET, Ruby, GoLang etc.
Front-end: React, Angular, Vue.js, etc.
Mobile: Swift, Kotlin, React native, Flutter, etc.
AI/ML/Data Science is a big stream for us: machine learning, deep learning, NLP, computer vision, etc. Technologies: TensorFlow, PyTorch, Terraform, Pandas, AzureML, OpenCV, etc.
Can I hire the whole team?
Yes!
Apart from developers we've got UI/UX designers, QAs, Product Managers, etc.
Based on your requirements we can assemble the whole engineering team.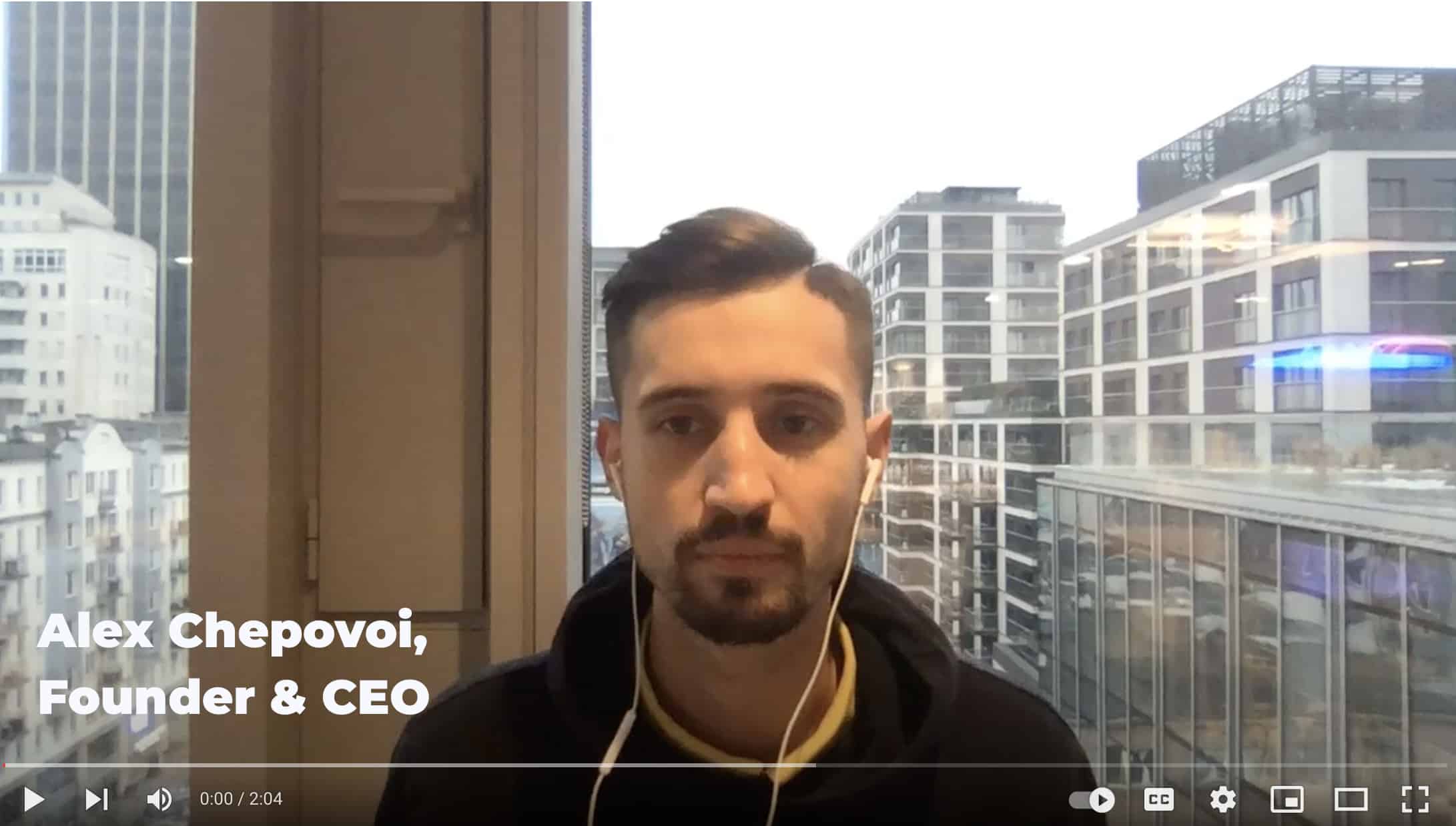 November 05, 2022
10 min read
Vue JS Developers for Hire
Vue.js is a JavaScript library for building user interfaces (UI) that is increasingly popular amongst web developers. As of September 2022, Vue.js is used by 4.1% of websites that rank in the top 1,000. For instance, Vue.js' closest competitor, Angular, is only used by 1.6% of the website in the top 1,000. 
Vue.js is used by Netflix, LinkedIn, Tesla, Gitlab, and Paypal. The percentage of websites utilizing Vue.js has risen from under 0.55% to over 0.7% in a year. It's a significant gain considering how competitive the web development market is and how hard it is to substitute already existing solutions.
In this article, we'll walk through some of the most important aspects of Vue.js development services and answer the following questions: why should you use Vue for your next project? What makes this framework different from other JavaScript frameworks? How can you hire Vue.js developers who are experienced with the toolset?
Vue.js Consulting Services and App Development: the Best Framework for UI and SPAs
Vue.js was developed by Evan You in 2013 and released to the public in 2014. It is the sixth most popular JavaScript framework, according to Stack Overflow's 2022 annual developer survey.
The framework is more flexible than Angular and more versatile than React. Vue boasts features like two-way data binding, reactive components, and custom event hooks that make it easy to build interactive single-page applications (SPA).
Vue has a growing community of users who are devoting themselves to improving the framework and building tools for it. It has over 3.5 million weekly downloads on npm, which makes it one of the most popular front-end frameworks on the market today. Let's look closer at some aspects of Vue that make it special.
Vue.js Developers Build Lightweight Apps
Vue is one of the smallest frameworks on the market and has a size of ~20 KB. With Vue.js, developers can build tiny apps that are easy to download and fast to operate. This contributes to SEO and user experience overall.
Vue.js Is Easily Integrated With JS-Based Tools
Vue is built on top of the same JavaScript core technologies as other popular frameworks and libraries like jQuery. It means that Vue.js developers can easily integrate Vue into projects that are already using these technologies. For example, if you're already using jQuery for Document Object Model (DOM) manipulation, it's easy to add Vue onto your page by writing: <script src="https://unpkg.com/vue@3/dist/vue.global.js"></script>.
Vue JS Developers for Hire Boost Project's Flexibility
Vue allows you to write templates using HTML, JS, or a JavaScript syntax extension (JSX). You should find transitioning from React or Angular to Vue painless — Vue's internal architecture borrows concepts from both of those libraries.
Vue Js Web Development Empowered by Strong Tooling Ecosystem
Vue.js comes with great tooling support. It has official integrations with Webpack, Browserify, and many other popular tools, so you can use whatever works best for your Vue JS application development. The Vue CLI also provides a solid starting point for new projects.
With the Vue CLI 3, you'll get new ways to boost your productivity. It will include built-in support for Babel and TypeScript, unit testing capabilities, an end-to-end testing toolset, and a plugin installation system. In addition, Vue has many integrated features, including its browser debugger and server renderer.
What Projects to Hire Vue js Development Company For
The main goal of Vue was to offer developers a solution that would allow them to build efficient SPAs using data binding functionality from AngularJS 1, but in a more lightweight way than Angular 2 or React. Today, Vue has become one of the most popular frontend frameworks due to its small size, easy learning curve, and large community support.
Vue.js is especially popular among startups and small businesses that are looking to build a single-page app with limited resources. Here are some of the main use cases of Vue:
Prototypes. Vue is often used for prototyping because it's so easy to get started with. You can start building a prototype in under an hour by using one of the many starter templates available online.
Various graphical UI Projects. Vue comes with several features that make it easy to build components, handle state management, and style your app all in one place.
Adding Functionality to Existing Apps. You can use Vue as a standalone library or add it to an existing project using Webpack, Browserify, or other bundlers.
Single-Page Apps. One of the main reasons people choose Vue is because they want to build single-page web apps. Vue is great for this because it allows you to create reusable components, which makes it easy to build complex single-page web and desktop applications that don't require refreshing to update information.
Here are some organizations that will benefit from using Vue.js the most:
startups that need something simple and easy;
companies that are looking to build web pages or web applications that can scale as they grow.
Vue.js Application Development: Professional Competence
Finding a professional Vue JS developer isn't just about finding someone who knows the framework well. You need to find a person who can work with your team and get things done quickly. A good Vue developer should be able to create an application that is both scalable and easy to maintain over time.
If you want to hire Vue JS developers or a Vue JS development company, you'll want to make sure they have the right skill set and experience in this field. The following are the qualities that make up the professional competence of an experienced Vue.js Developer:
Thorough knowledge of HTML5, CSS3, JavaScript, and Webpack.
Understanding of browser-based development principles, such as DOM manipulation and event handling with Node/NPM modules (such as jQuery).
Experience with database design patterns like MVC.
Ability to work with an Agile methodology and in an Agile environment.
Experience with version control platforms like Git.
Knowledge of test-driven development (TDD).
Some of the Vue.js developer responsibilities include:
Writing clean, maintainable source code in JavaScript and TypeScript.
Developing frontend UI web components with Vue.js, HTML, and CSS.
Working with the app development team to design and implement the best solutions for projects.
Supporting and extending existing features of the product.
Participating in the creation and documentation of internal systems.
Maximizing an application's performance.
Fixing bugs.
Executing automated testing throughout development, production support, and maintenance cycles.
Keeping abreast of the latest developments in both JavaScript and Vue.js.
Monitoring security issues and updates, as well as problems with Vue.js or other project dependencies.
Those are just a few of the many responsibilities of a Vue.js developer. If you need someone who can help you hire Vue developers in 48 hours, than we will be happy to assist you!
How to Hire an Expert Vue.js Developer?
It's difficult to hire Vue.js developers with good experience, especially if you don't know what to look for. First, you should ask yourself what soft and technical skills and concepts people need to have to work on Vue.js projects. Look for Vue.js developers who have a good understanding of JavaScript and its ecosystem, as well as Vue.js itself. They must know how to use tools like Babel, Webpack, and Browserify. You may also want to look for candidates who have experience working with SPAs.
Before choosing a Vue.js developer for your project, there are some basic questions that you should ask candidates. Thus, you will determine if a candidate has the necessary skills and experience to complete your tasks successfully.
Interviewing a Vue.js Developer
There are some key things to consider to make sure you're hiring a professional. Here's a list of questions you can ask to get an idea of the technical background of an interviewee.
Questions to Ask a Junior Vue.js Developers
Junior Vue.js developers should know how to use Vue.js as well as other technologies associated with it, such as HTML, CSS, and JavaScript. They should also be familiar with related technologies like Node.js and MongoDB or MySQL, depending on the project requirements. Ask a junior Vue.js developer:
What is Vue.js?
Can you tell me a little bit about your experience with Vue.js?
What are some of the things that make Vue.js stand out from other frameworks or libraries?
Those are some of the basic questions you can ask junior developers. You can always add your questions based on your project's requirements.
Questions to Ask a Middle Vue.js Developers
Middle Vue.js developers should have a good understanding of Vue.js and its ecosystem. You can ask about the Application Programming Interface (API), how it works, and some advanced use cases for Vue.js projects. Here are common questions for a middle specialist:
Can you tell me some of the pros and cons of using Vue.js in a project?
How would you describe Vue.js to someone new to it?
Why is Vue called a progressive framework? What is progressive about it?
Questions to Ask a Senior Vue.js Developers
If you're interviewing a senior software engineer, it's important to ask questions that will help you gauge their knowledge of technology and their ability to perform complex tasks. Here are some questions for a senior developer:
What do you think are the biggest challenges facing Vue.js developers today?
What do you think makes a great Vue.js developer?
Explain what Vue.js reactivity is.
How do you see the future of Vue.js?
Highly skilled developers can help you determine the best way forward for your project. A senior software engineer will understand the technology, will be able to offer solutions/alternatives, and provide guidance on how to use them effectively.
How Much Does It Cost to Hire a Vue.js Developer?
The cost of hiring a Vue.js developer varies depending on their experience, skill set, time zone, and country. There are hourly rates and monthly rates, as well as project-based pricing. Here's a breakdown of the salary ranges for junior, middle, and senior Vue.js developers:
| | | |
| --- | --- | --- |
| Position | Hourly rate | Monthly rate |
| Junior Vue.js Developers | $20–$50 | $4,000–$8,000 |
| Middle Vue.js Developers | $50–$80 | $8,000–$13,000 |
| Senior Vue.js Developers | $80–$100 | $13,000–$17,000 |
The salary of Vue.js developers can also vary from one country to another. You can find some Vue JS web development specialists on the Internet who are ready to work for as little as $19 per hour. But make sure to check their hard and soft skills first.
If you need a Vue.js developer for hire, we have a team of experts who can help your project reach its business goals. And we have lower rates than the market average.
Contact us today and get started with your next project!